Post by Birdy on Jul 22, 2021 17:56:50 GMT -5
NFC Creative Mode
Note, this article draws much of it's formatting and inspiration from the official Minecraft Wiki, with the specific information being modified for relevancy to New Frontier Craft's Creative. Heavy credit goes to the people that've built that wiki page over the years.
---
Creative mode is an alternate gamemode that has been implemented into New Frontier Craft. Minecraft has always been a game of two game modes. Back in the days before Beta 1.8, this was offered through the online classic gameplay through Minecraft.net. We do not hold anything against the concept of Creative, and we overall find it a helpful tool for moderation, creation, and testing. This is why we chose to add it to our modified version of Beta 1.7.3.

Creative mode, like modern, strips away the survival aspects of Minecraft and allows players to easily create and destroy structures and mechanisms with the inclusion of an infinite use of blocks, flight, and modern style sprinting for quicker navigation. Sprinting in NFC is a feature exclusive to Creative mode.

Creative Inventory

---
New Frontier Craft utilizes a modified variant of the Beta 1.8 creative inventory. Like that version, the creative inventory features a scrollable list of all blocks and items, sans a few technical ones.


Where we diverge from Mojang is that we give the user some more functionality. We've added a search bar to the upper right hand corner of the window, letting you search through all the items and blocks contained within the mod. There's a toggle switch on the top to flip between the creative inventory, and the normal player inventory. Meaning unlike Mojang, where you had to open a chest if you wanted to do inventory management between Beta 1.8 and Release 1.2, we've added the ability to actually properly manage your inventory fully while in Creative.

And finally, in the upper left hand corner of the screen, we have a button that leads you to a set of world settings. The innards and functionality of this button are documented in the next section.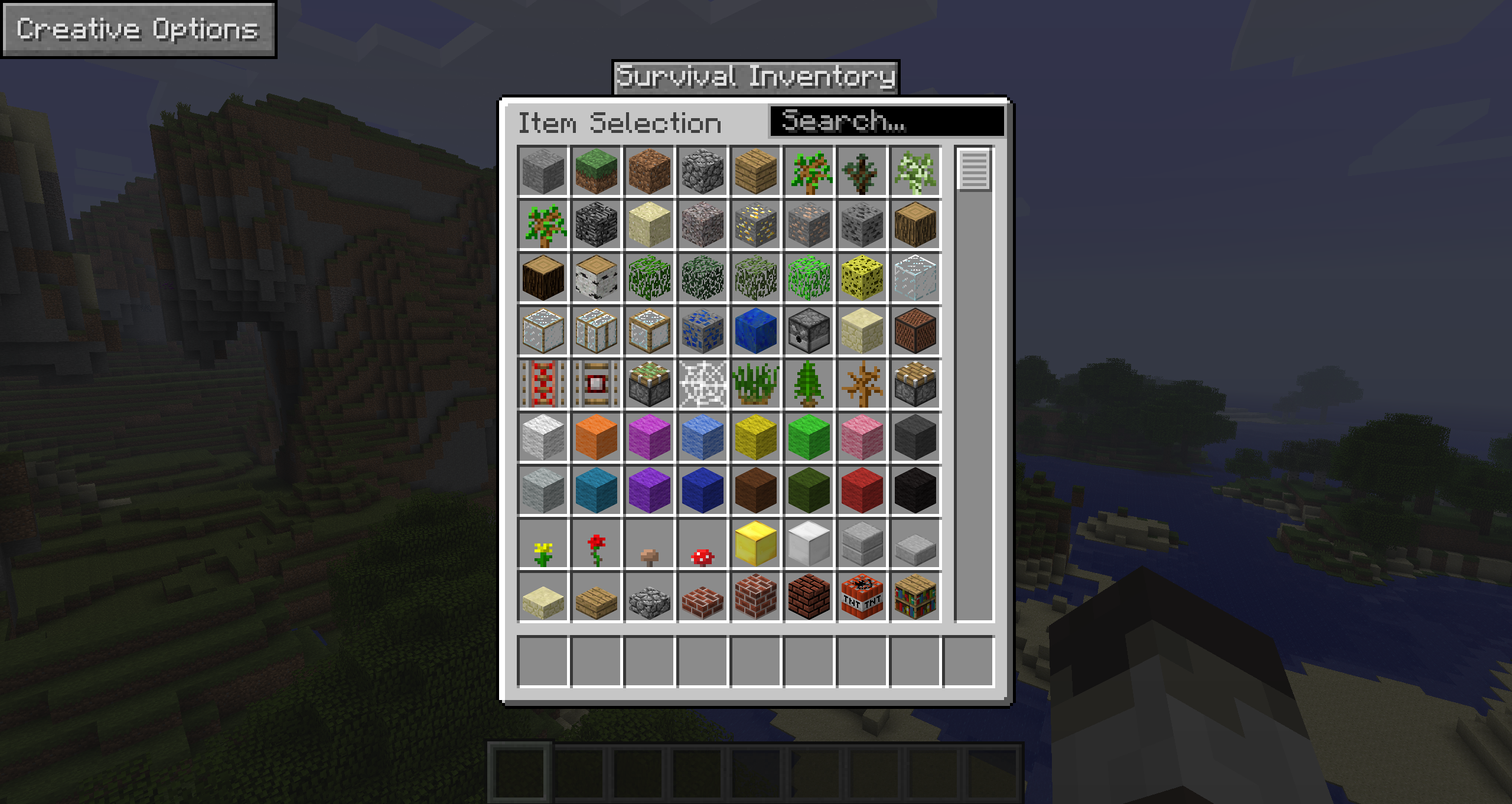 Creative Options
---
At the moment, most of the functionality is fairly simplistic. We'll be extending this panel more and more as we release more updates, to hopefully bring it up to par eventually with the majority of the command system from modern.

We've got button that set it to day and night, switches to enable rain and thunderstorms, a time lock, a button to force the
Blood Moon
event, and a gamemode toggle, which lets you toggle between survival and creative. The gamemode toggle can also be flipped without opening up this GUI through the key combination F3+N
All worlds created in Creative mode will have "Cheats" enabled internally, which gives the player access to the Creative Options in the upper left hand side of the screen. Both the current gamemode and whether or not cheats are active in a world can be viewed from the world selection screen. You can freely flip between the two gamemodes once inside a world created in Creative.